International sportswear company, Nike has made available Olympic Kits used by the Kenyan team in Tokyo.
The athletes donned the kits during the opening ceremony of the 2021 Tokyo Olympics and in their respective events, marketing the country across the globe.
A wet weather jacket such as the Nike Team Kenya Shieldrunner Jacket as shown below retail at $150 (Ksh16,400).
The Nike running trousers cost $110 (Ksh16,400) while the running vest retailed at $90 (Ksh9,846). Also available are running tights, which retail at $95 (Ksh10,393).
Other items being sold include warm weather jackets at $70 (Ksh7,658), running t-shirts at $90 (Ksh9,846), a dri-fit gear at $90 (Ksh9846). Notably, the prices are not inclusive of the shipping fee or duty.
The Olympic Kits were designed by Allan Mbasu, Philip Muthuni and Patrick King'ori.
The three emerged top in a design competition organized by the National Olympic Committee of Kenya (NOC-K) in collaboration with the Kenyan Fashion Council.
Mmbasu designed the kit, Muthuni the shoes, while the accessories were done by King'ori. Mmbasu revealed that he had submitted his piece just 10 minutes before the deadline.
The kits designs were then submitted to Nike for production and would bear the Nike 'swoosh' symbol alongside the Kenyan flag.
The world has a soft spot for Kenyan athletes, if the cheers Kenyan marathoners, sprinters, and rugby players get at international events is anything to go by.
In 2016, fans from all over the world were left in awe when the Kenyan national anthem was played as Eliud Kipchoge received his gold medal after winning the marathon. The same was witnessed recently when Kipchoge successfully defended the gold medal in Tokyo, Japan.
With such a huge endorsement of the brand Kenya, the merchandise is expected to fly off the shelves like hot cake.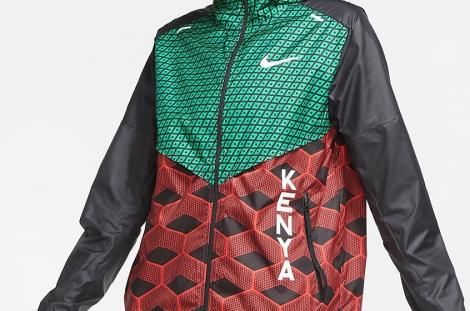 A Model Poses With a Warm Weather Jacket.
Photo: NIKE